Why Buy Electric with Patrick Hyundai?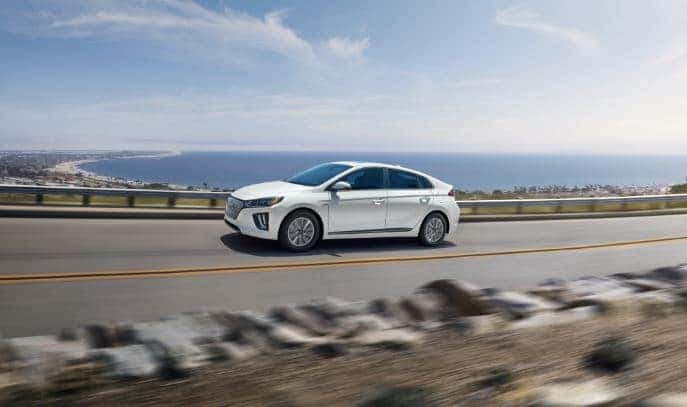 Looking for an electrifying driving experience? Look no further than Patrick Hyundai. With our fleet of various plug-in hybrid vehicles (PHEV) and electric vehicles (EV) we have you covered no matter what your preference. We do, however, want to take the time to list a few reasons why we truly love EV's and embrace the electric future.
Electric vehicles are better for the environment

One traditional gas-powered car rated at 22 MPG could emit, on average, about 4.6 metric tons of carbon dioxide per year. Compare that to an EV which emits no carbon dioxide at all. This is all due to the fact that EV's do not come with a gas-powered engine, thus there is no need for an exhaust system for any emissions. This allows for EVs to be a cleaner and more sustainable vehicle that produces more clean air for the environment.

Electricity is cheap and renewable

When comparing the two as a fuel source, electricity is much cheaper than gasoline in both the long and short-term. Savings vary, but on average, you could be saving about $632 per year in fuel costs by switching to EVs.

Less expensive and frequent maintenance

If you look under the hood of an EV it could be a bit jarring without the presence of a gas-powered engine. EV's have a lot less to work with under the hood which means a lot less regular maintenance for you the consumer. Gone are the days of regular oil changes without the use of a gas-powered engine. Other obvious regular maintenance such as tire replacement and brake replacement will be needed, but EV's are usually much easier on those components, ensuring they last longer as well.

Tax credits

Original owners of EVs can also receive credits on tax returns for simply owning an EV. Some car owners can get up to $7,500 in credit in some states for certain cars. State incentive programs for Electric vehicles vary in their scope and applicability. While tax incentives are most frequently mentioned, rebates, HOV access, toll reduction and sales tax exemptions are also offered. States currently offering tax incentives include California, Colorado, Connecticut, Delaware, Louisiana, Maryland, New Jersey, New York, Pennsylvania, Oregon, and Washington DC – however the list is always changing. These state tax incentives currently range from $500 to $5,000. Please consult your knowledgeable financial planner or tax specialist to determine how the state and federal incentive may apply to you.
From SUV's to Sedans to Compacts, Patrick Hyundai aims to have a wide variety of options for you to explore and enjoy. We encourage you to explore and learn more and if you have any further questions don't hesitate to visit us or give us a call.