Hyundai Hope On Wheels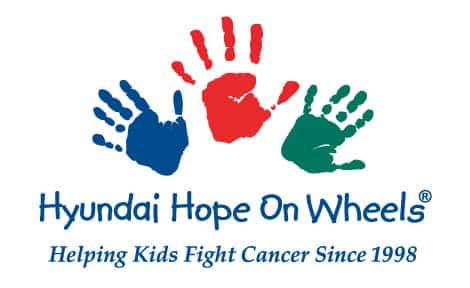 About Hyundai Hope On Wheels
I can. We can. Together end childhood cancer.
Through no fault of their own, cancer strikes at a time when kids just want to be kids. They have dreams, goals and so much to contribute.
Hyundai and its U.S. dealers created Hyundai Hope On Wheels in 1998. From the sale of every new vehicle, a donation is made to fight cancer. To date, more than $185 million and over 1,000 research grants has gone to support research at children's hospitals across the nation.
The Mission
The mission of Hope On Wheels is to help kids fight cancer. We do so by funding innovative research, creating public awareness, stimulating social media conversation and serving as a thought leader.
How It Works
Hyundai Hope On Wheels creates awareness for pediatric cancers and awards large grants to doctors and premiere research centers for life-saving research. This 23-year commitment awards grants in various categories to researchers at eligible Children's Oncology Group member institutions. The highly-competitive grants are aimed at expanding the knowledge base of the disease and improving the standards of care. We are encouraged by the advances of technology, and by the potential breakthroughs enabling scientists to understand the disease better than ever. We hit our target of awarding over $11 million across 2020 in the form of research grants through our:
Quantum Collaboration Award: $2,500,000, a 4-year award
Hyundai Quantum Grant: $1,000,000, a 4-year award
Hyundai Scholar Hope Grant: $300,000, a 2-year award
Hyundai Young Investigator Grant: $200,000, a 2-year award
Hyundai Impact Grant: $50,000, an annual award
Why Pediatric Cancer?
Hyundai and its dealers are committed to Better products, Better service, and Better society. Through acts of better, we donate to charitable efforts to make benefit society. Kids are the future and they deserve every opportunity to grow, play and learn in a world free of pediatric cancer. Every 36 minutes a child is diagnosed with the disease in the US. Despite advancement in research, one in five diagnosed will not survive. Pediatric cancer is the leading disease related cause of death for US children. At HHOW, our goal is to fund pediatric cancer research, to drive innovative research and to create new discoveries that increase the survival rates of the disease.
Why Handprints?
Each year HHOW visits children's hospitals across the U.S. to donate funds and raise awareness. During the event, we host our signature "Handprint Ceremony" which captures each child's handprint in paint. These handprints are placed on Hyundai cars that travel across the country to build colorful awareness of the program.
The Handprints For Hyundai Hope On Wheels Represent:
Kids who survived
Kids who are fighting
Kids whose memories live on
Because there is nothing more personal than a handprint, each is distinctive in its own way. By capturing the handprint, HHOW shares the stories, journeys and hopes of in the fight against the disease. Whether it's completing a round of chemo, celebrating a beautiful new head of hair or receiving a clean bill of health, one child's milestone can be another's symbol of hope. And these handprints serve as our symbol.
Why Do We Fight to End Childhood Cancer?
It's all about the kids. No child ever deserves to hear the words 'you have cancer.' HHOW is dedicated to supporting pediatric cancer research that finds innovative approaches, creates discovery, and improves care for children fight cancer. Working together with the physician-research community, we seek to find a day when no child loses his/her fight with cancer again.
In 2021, Hyundai Hope On Wheels will surpassed $185 million in donations to pediatric cancer research. In the years to come, we will continue to award additional grant dollars and to create greater awareness for the disease. And, we invite you to join our journey and help spread the word through your direct participation, personal involvement and social media activities to further awareness.