Top 10 FAQs for New Hyundai Buyers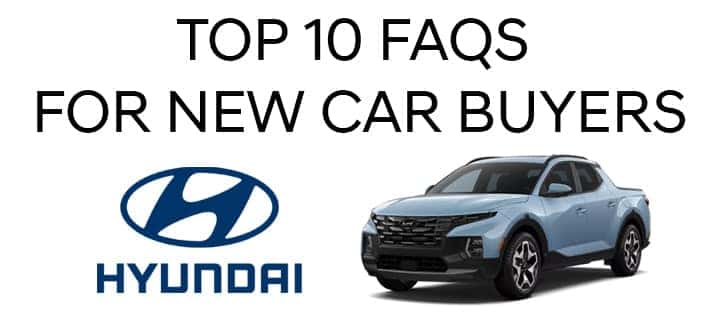 Congratulations! You've decided to buy a new car! There are a lot of questions that you need to find the answers to before you pick your next vehicle. To help you pick the best Hyundai, we at Patrick Hyundai have prepared this list of top ten FAQs.
#1 – What kind of Hyundai Should I Buy?
The first step to buying a new Hyundai is to ask yourself what you need from your car. Do you prefer power or better fuel economy? Are you riding solo or are you in charge of a carpool? What's the towing capacity for a trailer or boat? Do you want the lowest cost or fully loaded? This can help narrow down your choices to one or two models. Once you have narrowed down your options, check out our model research pages to learn more about them.
#2 – Why Should I Buy From Patrick Hyundai?
Our promises are what make Patrick Hyundai different. Our friendly and helpful team members will be happy to help you throughout the process. Our professional sales staff really listens to your wants and needs. For us, it isn't just about making a sale, but creating a positive relationship that will hopefully have a long-lasting future. It's a Patrick Thing!
Learn more about The Patrick Promise – our promises to you.
#3 – What's the Total Price?
The manufacturer's suggested retail price (MSRP) is not the price that you pay for your vehicle, it's a comparative guideline. We make sure to offer any dealer incentives and special offers to bring your price down and find you the best deal.
Keep in mind, the vehicle registration fee, documentation fee, sales tax, and the cost of any additional accessories or warranties are not included in the vehicle price.
Check out this month's special offers for new Hyundai vehicles.
#4 – How Much Can I Afford?
The best way to figure out what you can afford is to apply for financing before you come in. Select the vehicle you are interested in, customize your payment using our payment calculator tool and check the value of your trade-in. Once you've customized your payment, you can apply for financing before even stepping foot in our dealership. It's that easy!
Click here to get pre-qualified.
#5 – What's the Warranty?
Every new Hyundai comes with a standard 10-year/100,000 mile powertrain limited warranty and 7 year/unlimited mile anti-perforation warranty. Extensions and additional protection are available at extra cost. Click here to look at Hyundai warranty options.
#6 – Should I Buy a New or Used Hyundai?
There are advantages to both! Read our previous blog where we outline the advantages of purchasing a new and used vehicle.
#7 How Much is Maintenance?
Included in our Patrick Promises, we offer 10% off Transmission Services and Fuel Services for the length of your ownership. We also offer monthly service offers to keep your vehicle in excellent condition.
Check out this month's Hyundai service offers.
#8 – Can I Take a Test Drive?
We encourage all our customers to visit our dealership to test drive one or more models that you may be interested in. Don't forget your driver's license!
#9 – Do You Have an App?
YES! Our Patrick Promise App keeps all your vehicle's information right at your fingertips and comes with lots of time-saving features such as loyalty points, a service scheduler, and a virtual glovebox.
Click here to learn more and download the Patrick Promise App.
#10 – What If the Car I'm Interested in is Not On Your Lot?
With Hyundai vehicles being extremely popular, sometimes it's hard to find one before they are gone, but not at Patrick Hyundai. We will take the time to pre-order your new Hyundai with all the specifications you desire.