How to Give Thanks to Your Hyundai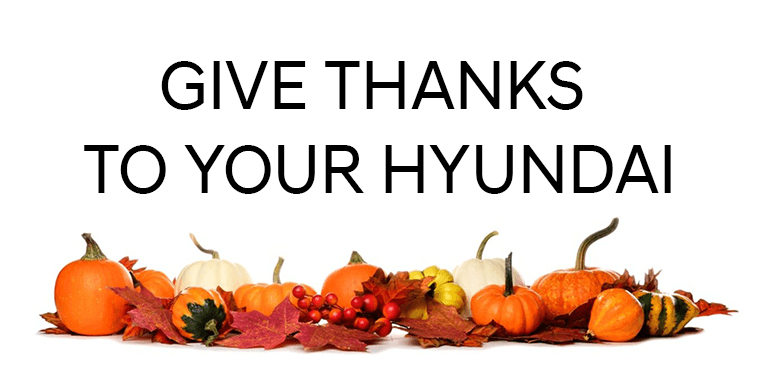 When was the last time you said "Thank You" to your Hyundai?
With Thanksgiving quickly approaching, now is the perfect time to reflect on the many things we are grateful for:
The family who loves us
The friends who care for us
The customers who support us
But let's not forget about the vehicles that have kept us safe for miles on end. Here are some ways to express thankfulness toward your car, truck or SUV:
Clean Your Hyundai
This might seem like an obvious suggestion, but cleaning your car has many different benefits. Studies have proven that a clean car makes you less bothered and stressed. Good detailing can clear out allergens and molds that form, which keeps us healthy. Cleaning the outside cleans the dirt, grit, and junk that can wind up clogging your systems. It's also a great time to check for dents, scratches, and physical damage. When your car looks good, you do more to protect it.
Let Them Rest
Learn to consolidate your trips. Not only will this save your gas, but less driving means less wear and tear on your Hyundai. You will also have less of a chance of getting into a random accident along the way.
Keep Calm
Don't let anger get the best of you. Anger can affect your driving ability. Treat rude driving behavior with a smile and wave and be grateful no one was hurt, or no damage was done. Your car should be a place of peace, not a reactive place.
Follow Your Hyundai's Maintenance Schedule
Change your oil, check that tire pressure, rotate your tires, and replace brake pads on time. Not only will these essential maintenance services keep you safe but keep your car running longer. Check out this month's Hyundai service offers.
At Patrick Hyundai, we're always looking out for our customers and their Hyundai. Giving your car proper recognition is super important and that is why you should regularly service and inspect your vehicle. Schedule your next service appointment at Patrick Hyundai now — just click the button below!