End of winter maintenance on your Hyundai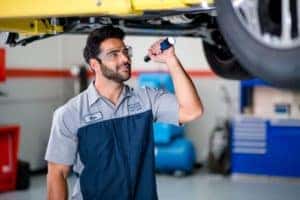 At Patrick Hyundai in Schaumburg, IL. we don't get caught in the cold! We are almost through the winter season with spring right around the corner. The last thing you want is your vehicle breaking down and being stranded in the freezing Chicagoland temperatures. Making sure that your vehicle is working properly plays a major role in your safety as well as the drivers around you. The Patrick Hyundai service team is here to make sure that your vehicle is preforming to the best of its ability and ensure it is road safe for you and other drivers.
Hyundai Maintenance
Vehicle maintenance is something that every driver should be attending to every time they are in their car. There are many parts that make your vehicle work properly that will wear out or stop working over a period while on the road. By having your vehicle properly maintained you can increase your cars performance and avoid major failures that can leave you stranded on the road. Preforming simple and inexpensive maintenance on your vehicle can prevent issues like low gas mileage and save you around $1,200 a year on gasoline. A great way to know if you need maintenance done is if you feel any difference in the car's performance or noises that the car is making. At Patrick Hyundai we have an experienced service team that will provide the maintenance that your vehicle needs to perform at its best.
Hyundai Vehicle Inspection
Wear and tear are something that every vehicle on the road have deal with. Over time your car will need to get maintenance done to ensure that the vehicle is preforming and road safe to drive. If problems are left alone, you can run into some serious issues with your vehicle or its parts. You can prevent these major issues by bringing your car into Patrick Hyundai for an inspection. Regular vehicle inspections ensure your safety and keep other drivers safe as well. Having an inspection done on your vehicle is a great way to help prevent car accidents or any unexpected breakdowns. The Patrick Hyundai service team will be able to find any problems with your vehicle and notify you with any issues about your vehicle and its parts and suggest how to prevent them from becoming a bigger problem.
Schedule a service appointment call (847) 230-8294 or Click Here.
View our current service specials Click Here.
Hyundai Maintenance Schedule Click Here.