Best Hyundai Service Offers for Fall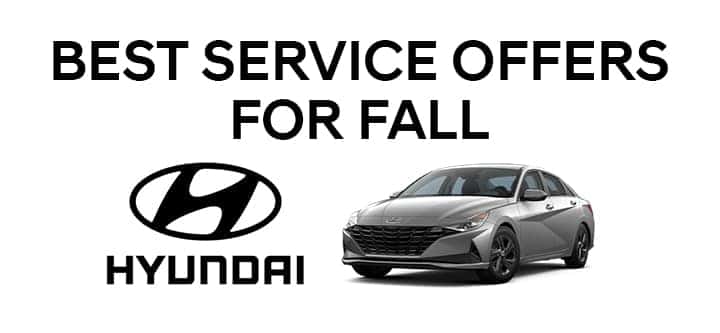 The summer was fun, but fall has arrived. That means it's time to take advantage of the best Hyundai service offers for fall, as well as look at some of the maintenance you might need after driving your vehicle all summer long. First, we'll look at the most needed car repairs for fall, and then we'll show you the best service offers to use here at Patrick Hyundai.
Top Car Repairs for Fall
Tires
Make sure to do a tread check on your tires after all the summer driving. It is highly recommended to replace worn tires before colder weather moves in. The colder temperatures make older, worn tires more prone to rim leaks which leave your tires underinflated, or even worse – you find yourself with a flat. Proper tread and inflation are necessities for driving through the cold, slippery roads of fall and winter.
Heater
It won't be long until we are cranking up the heat every time we drive our cars. Months and months of defrosting and heating are right around the corner. If you haven't used your heater since last winter or spring, turn it on and make sure it's working correctly. If you notice any signs of disrepair, including odd noises, it's best to bring it to Patrick Hyundai to have it checked out by our certified Hyundai technicians.
Springs/Suspension
It's been reported that air springs and suspension work are one of the top repairs done every fall. This is because people are taking their cars on long road trips, driving them more often, and driving in construction zones. The auto website Your Mechanic states that replacing air springs is the number one repair done in the fall, with approximately 35% of repair quotes including air springs replacement.
Windows
Window lift motor and regulator assembly also ranked in the top five car repairs done each fall, according to Your Mechanic. We use our windows in summer more than any other time, so it follows that lift motors and assemblies get fixed a lot in the fall. While we don't use our windows often in the fall and winter, we certainly don't want to be in a position where a window won't go down – or even worse – won't go back up when it's cold, rainy, or snowing out.
Battery
Checking the strength of your battery before the cold and often dangerous temps move in is highly recommended. Our service department can tell you if it's time for a new battery.
Wipers
There aren't many things more annoying than having wipers that don't completely clear the field of vision when it's raining or snowing. It's always a great idea to put on new windshield wipers before the cold and precipitation become the norm for a few months.
Oil Change and Fluids Check
It wouldn't be a good service blog without a reminder to get your oil changed regularly per your model's maintenance guidelines. Colder weather makes oil flow more difficult and can also change the vehicle's oil pressure. Ensuring you have clean oil will make your engine work better in cold temps and it's also a best practice to help stave off engine problems.
Best Hyundai Service Offers for Fall
Now let's look at the best Hyundai service offers for fall. You can print the coupon or just click on it and show it to your Patrick Hyundai service advisor.
Back to School Fall Special
Perform oil change, tire rotation, and brake inspection for just $79.95.
Hyundai BG Induction Special
A fuel induction clears out carbon deposits and other harmful builds, preventing them from entering the engine. It is the most effective solution for enhancing drivability and fuel efficiency. Just $179.95. (Exp. 10/31/22)
Spend and Save up to $125 on any Hyundai Repair
The more you spend, the more you save:
– Spend $100 – $199 … Save $20
– Spend $200 – $299 … Save $30
– Spend $300 – $399 … Save $40
– Spend $400 – $499 … Save $50
– Spend $500 – $599 … Save $60
– Spend $600 – $699 … Save $70
– Spend $700 – $799 … Save $80
– Spend $800 – $899 … Save $90
– Spend $900 or more. Save $125
(Exp. 10/31/22)
We also have flexible Hyundai Service Payment Plans available that offer deferred interest. Have your car serviced at Patrick Hyundai and be all set for the fall and winter!