Benefits of Buying a 1-Owner Car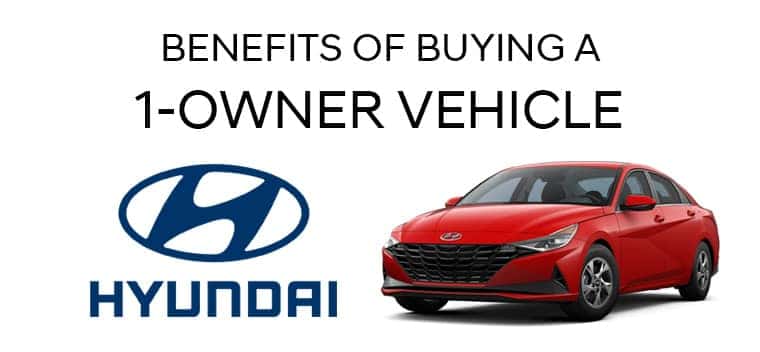 When buying your next Hyundai, consider the benefits of choosing a 1-owner vehicle. Purchasing a well-maintained pre-owned Hyundai can save you money while getting you into a reliable car at the same time.
A 1-owner car is a used car that has only been owned by one person and usually comes with a variety of benefits many other used cars don't offer.
Here are three benefits of purchasing a 1-owner Hyundai.
Less Wear and Tear
1-owner vehicles typically are well maintained and have a shorter maintenance report. Each owner approaches car maintenance differently. With a 1-owner vehicle, you are less likely to encounter a person with poor maintenance habits or careless driving habits.
Frequent changes in ownership can mean that a vehicle has problems that owners don't want to deal with. One owner = less problems.
Be sure to ask for the CarFax Vehicle History Report to view the vehicle's last reported maintenance and service visit as well as any crash and damage history. If the car has been branded as a lemon, salvaged, or rebuilt, the CarFax History Report can provide that information as well.
Still Relatively New
Since new car owners typically keep vehicles for around five years, the vehicle will still have a long future ahead of them as well as up-to-date technology such as wireless connectivity, safety systems, and hands-free features. You get the monetary advantage of used cars but the functional advantage of a new car! That includes depreciation. The original vehicle buyer has already taken that big depreciation hit and you get to be the beneficiary of that.
Ease of Mind
Simply, it's just nice knowing that fewer people have driven your car.

If you're in the market for a used car, be sure to check out our CarFax 1-Owner Sales Event on Friday, July 22, and Saturday, July 23 at Patrick Hyundai or start shopping for 1-owner cars online today!